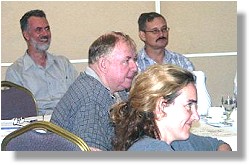 Parks Services staff, Coordinator Citiwaste & Environmental Management Services Project Officer.
LEVEL 1: INDICATORS
Objectives:
Understand the basics of indicators
Develop a set of 9 indicators for each Compass Point
Make linkages among the indicators
Report on the results
INTRODUCTION
Indicators are representations of trends. Usually, they are presented in the form of measurements: how many, how much, how fast, how often, and so forth.
Indicators are a way of looking at a complex system, assessing its current status, and signaling that status in simple terms.
Sustainability indicators are about assessing sustainability -- the status of the complex systems that make up an entire human society, community, or organisation, together with the natural systems on which they depend.
In this module, you will get an introduction to sustainability indicators, and some practice in thinking about them.
You will also get some practice in using them -- to find linkages between different elements of the systems in which you play a part.
In addition to the presentation slides, we've included a brief article for background purposes to read at your leisure.
The indicators were also evaluated on the following criteria:
Relevant - directly connected to the issues you are concerned with
Measurable - objective or subjective, qualitative or quantitative
Reliable - do you trust the data you would get? would it come regularly?
Understandable - can the average person "get it"?
Clear in Direction - is it obvious which direction is good?
Responsive - if you change something, will the indicator change? how fast?
For more information on indicators of sustainability, and links to other resources, go to the www.AtKisson.com website.