Bush Tucker Trail
Children from St Joseph's School Mundingburra were taken on a guided tour of the Bush Tucker Trail at the Town Common in July as part of the Greentree Ants program.
Click here for the full report
More Greentree Ants activities...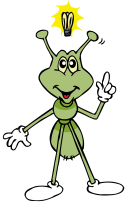 There are many more activities that can be included in this program such as tours of the Native Gardens of Townsville, Ants and Art, where children have the opportunity to create works of art based upon what they have learned about Greentree Ants and biodiversity and the formation of a Greentree Ants Club where members create and maintain a community revegetation site.