The project involves two mobile education units used to service two distinct regions of the state. The first unit is the LAWMAC education bus ('Kerby') to service 29 local governments in northern Qld. The LAWMAC bus is a mobile waste education unit officially launched at the LAWMAC meeting in Townsville, September 13, 2002.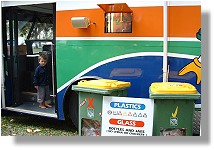 'Kerby' at the 2005 Ecofiesta
Click to Enlarge
The bus features static and interactive displays designed to assist young people's understanding of recycling and its importance to a sustainable future. The bus is divided into several settings which demonstrate different recycling options for different environments. These include a kitchen, backyard and park.
The bus is shared between Queensland's 30 regional local authorities during the next two years. There is also room inside the bus, for local authorities to display their own information.
The second unit, is a trailer and is operated by Toowoomba City Council and utilised by councils in the Eastern Downs region as part of a coordinated approach to waste minimisation. The material contained in each unit is generic but councils can tailor programs to met local requirements and provide schools and the community information on their areas specified recycling system.
'Kerby' and its high tech counterpart have received warm welcomes in the northern shires by schools and the community. The Eastern Downs trailer is also in high demand.
Both education units have also been revamped to include the 'Recyclable Steel' logo on its labelling.
Inside 'kerby' - Waste Education
Click to Enlarge

LAWMAC came up with the idea of the waste education bus to keep the far-flung population informed about recycling. 'The bus is very user-friendly and it allows visitors to learn about recycling and waste management issues with hands-on experience,' says Cr. Dave Egan, Deputy Mayor of Douglas Shire Council and Chair of LAWMAC.

An example of increased recycling from a mobile waste education unit is in the LAWMAC area where their waste education bus has a significant effect in the 40 tonne per annum recycling increase in the Nebo Shire Council.