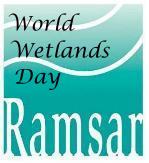 The Ramsar Convention on Wetlands
World Wetlands Day 2002 - index page
---
---
WWD 2000 in Geelong (Victoria, Australia). Photo: Liz Gould
What is World Wetlands Day? 2 February each year is World Wetlands Day. It marks the date of the signing of the Convention on Wetlands on 2 February 1971, in the Iranian city of Ramsar on the shores of the Caspian Sea. WWD was celebrated for the first time in 1997 and made an encouraging beginning. Subsequent World Wetlands Days have been organized around such suggested themes as the importance of water to life and of wetlands to the supply of water and, in 1999, on "People and Wetlands: the Vital Link". Each year, government agencies, non-governmental organizations, and groups of citizens at all levels of the community have taken advantage of the opportunity to undertake actions aimed at raising public awareness of wetland values and benefits in general and the Ramsar Convention in particular. From 1997 to 2001, the Convention's Web site has posted reports from more than 60 countries of WWD activities of all sizes and shapes, from lectures and seminars, nature walks, children's art contests, sampan races, and community clean-up days, to radio and television interviews and letters to newspapers, to the launch of new wetland policies, new Ramsar sites, and new programmes at the national level.
Wetlands: Water, Life, and Culture
WWD 2001 on a beach in the Philippines
The suggested theme for World Wetlands Day 2002 is "Wetlands: Water, Life, and Culture". Wetlands are a storehouse of cultural heritage which takes many forms, from human-made physical structures and artefacts, palaeontological records in sediments and peat, and traditional water and land-use management practices, to places of religious and mythological significance and the intangible 'sense of place' felt by many for these wild and often mysterious sites and their wildlife. Throughout its history, the work of the Ramsar Convention on Wetlands has emphasized the importance of people in conservation efforts: their livelihoods, their welfare, their traditions and beliefs, their leisure as well as their work – not only their economic and social well-being, but their "cultural heritage" as well. Increasingly, the Parties have observed that there is much common ground in the biodiversity and heritage management of wetlands.
Standing Committee has chosen for the 8th COP (Valencia, Spain, 18-26 November 2002) the theme "Wetlands: water, life, and culture", and that one of the COP's five Technical Sessions will be on "Cultural aspects of wetlands as a tool for their conservation and sustainable use". In order to contribute to this process, the suggested theme for the 6th World Wetlands Day, 2 February 2002, will be the same as COP8's: "Wetlands: water, life, and culture". Government agencies, non-governmental organizations, site managers and citizens are invited to explore cultural issues in their national and local contexts and seek to make their publics more aware of the cultural as well as the natural values of their wetlands.
---
Reporting on World Wetlands Days of the past
Since 1997, the Ramsar Bureau has welcomed news from everyone of their plans for World Wetlands Day activities and reports of their activities afterward, and has endeavored to post them all on the Ramsar Web site. Government agencies and private citizens from all over the world have sent us their news, and these reports make an excellent archive of ideas for future celebrations.
---