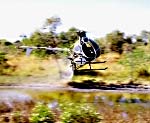 Environmental Management Services
Environmental Management Services mission is to promote and provide environmental management services to Council and the community so as to achieve the goals and strategies of the TCC Corporate Plan and Council policies.

The City's natural and built environment is important to the future prosperity of Townsville and its community. Sustainable use of the environment can be achieved by proper environmental planning procedures. This sustainability will require acknowledgment of Agenda 21 issues, Integrated Environmental Management and natural area, coastal and catchment management.

The proper management of Townsville's environment and its resources for the future can be achieved by having detailed knowledge of natural systems and current impacts and pressures placed upon them. Factual data on these impacts and pressures can provide an important tool for decision making and monitoring.

Environmental Management Services is responsible to Council for researching and collating Integrated Environmental Management and advising Council on implementation.