This week we visit Ross River Weir - Townsville, North Queensland
ROSS RIVER WEIR FACT SHEET
The efforts of the Twin Cities Fish Stocking Society, who in recent years have introduced in excess of 100 000 barramundi fingerlings into the freshwater reaches of the Ross River, have been instrumental in restoring and promoting one of the regions most valuable fisheries.

Society secretary Dr Keith Harveyson attributes the success of the Ross River barramundi fishery and the immediate local fishery to a small army of volunteers who, in association with the Queensland Department of Primary Industries, realised something had to be done to reinstate what was obviously a resource in sharp decline.

"The introduction of hatchery raised fish to Ross River, under the guidance of DPI, has certainly reversed a trend where not more than fifteen years ago the capture of more than one barramundi by a recreational angler was big news. Now similar catches are regarded as merely incidental as some anglers often attain their maximum bag limits," Dr Harveyson said.

"The beauty of stocking the Ross River is that flooding waters during the wet (season) allow mature fish to escape the weirs giving them the opportunity to mix with wild stock and breed. This in turn benefits a much greater area."

Aplin, Gleeson and Black Weirs are now renowned for yielding world record class barramundi for recreational anglers targeting the species.

Fish to and exceeding the maximum legal size for the species or approximately 24 kilograms are regularly encountered.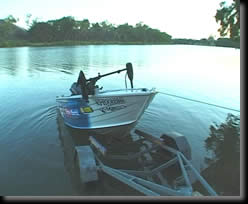 These Ross River weirs are easily accessible with many anglers choosing to fish close to the weir walls where big fish are often found.

Boating access is a little more difficult, although a canoe or small tinny manhandled into the weirs is often well worth the effort.

These anglers often choose to troll large shallow running lures along the vast weed banks and lillypad beds that line a good majority of the rivers perimeter.

This is where big barramundi hunt.

Many others prefer to offer the fish live bait, which are usually caught in either live bait traps or with baits presented on fine lines and small hooks.

Banded grunter, spangled perch and mouth almighty are all superb baits and easily caught with offerings of prawn, red meat, fish flesh or bread.

A small amount of bread utilised as berley will attract these species from considerable distance.

Speed restrictions apply on much of the weir waters, which come under the authority of NQ Water Inc.

Recent recreational zoning of Black Weir still permits fishing. Four zones divide the weir into specific recreational activity areas.

Zone A, B and C all cater for high speed motorised pursuits like ski and jet ski activities and this area extends from the Black Weir to a boundary immediately downstream of Gollogoly Lane.

Thereon, to the Ross River Dam wall, passive recreational activity under six knots is permitted.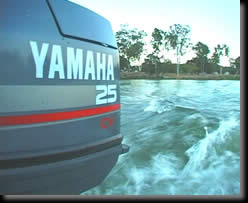 While fishing is allowed in all zones, anglers must give way to all vessels undertaking their recreational activities in zones A, B and C.

Aplin Weir is approached via either O'Reilly Street or Burt Street in Mundingburra or Fairlight Crescent off River Park Drive in Annandale.

Gleeson Weir can be accessed by taking Arinya Street off Ross River Road in Cranbrook while Black Weir offers good options for landbased anglers when approached from grounds adjacent the Weir School in Kirwan, also on Ross River Road.

Loam Island and Apex Park off Upper Ross River Road also offers excellent access to Black Weir.

Aplin weir separates the salt water reaches of the lower Ross from the remainder of the river, which was originally the domestic water supply for the city.

It is here many anglers choose to fish – especially during the wet season when barramundi line up below the weir wall to feast on tarpon, banded grunter, freshwater herring and a variety of other food sources that are washed over.

Fishing here can be hazardous during heavy flows. Fishing off any of the weir spillways is prohibited and is policed by NQ Water rangers.



© Copyright 2001-2003 Fish N 4 Productions Pty Ltd