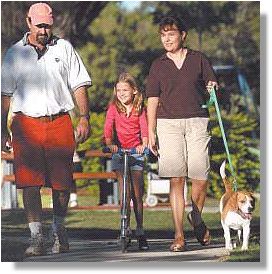 Now residents can enjoy upgraded parks with new barbecue equipment and playgrounds. Thousands of trees have also been planted and weeds removed to improve this unique environment.
Ross River has always been a vital part of the city and through this project it will continue to be a focus of community activity. So come and enjoy our greatest natural asset - you will be delighted.
The Ross River Parkway recently won the 2003 State award (Recreational Infrastructure Facilities category) of the Heart Foundation Kellogg Local Government Awards.
Upon completion, cyclists and pedestrians will be able to travel from the Ross River's upper reaches through the suburbs of Cranbrook, Riverside Gardens, Douglas, Annandale, Aitkenvale, Mundingburra, Idalia, Hermit Park and Railway Estate, right into the city.